Gartner 2014 Magic Quadrant For Cloud IaaS
Check out the report for insight on where public cloud infrastructure as a service is heading in the coming months, a detailed analysis of vendors, and Gartner's review of major market and industry trends.
GET THE REPORT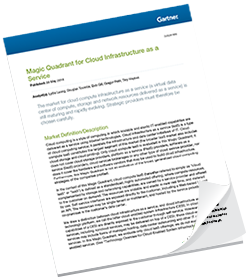 ...efficiency demands automation instead of operators. Consequently, the choice of an IaaS offering ultimately impacts the quality of the customer's IT operations."*
...cloud IaaS is not merely a matter of hardware rental, but an entire data center ecosystem as a service."*
...leading providers will offer both IaaS and PaaS, and in many cases will blend IaaS and PaaS capabilities....Customers want to develop, deploy and manage applications efficiently, and will choose the combination of capabilities that best suits their needs."*

Want to learn more?
We are standing by to help you formulate your cloud strategy.
Request a Quote